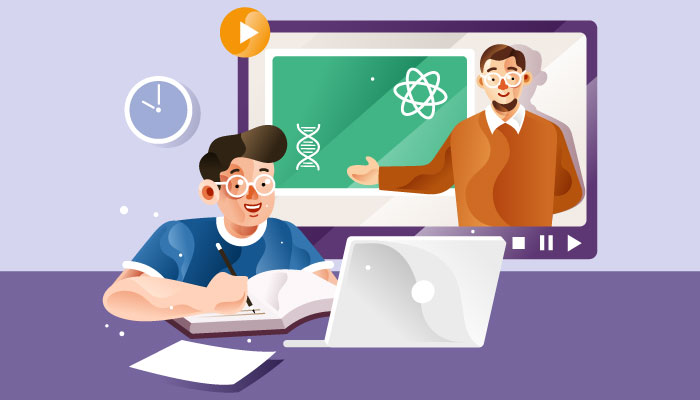 Importance of Technology Trends in Education
Technology trends change swiftly as we communicate or function in our day-to-day life. It has changed every aspect in many fields and sectors, effectively as possible. But the area of education is lacking regarding technology. Given the fact that education is the entity that can bring a positive change into the world, so launching new technology trends in education has been an important point nowadays.
Emerging technology trends in education can help everyone to reduce the challenges that we are facing while providing quality education across the globe. Education technology trends in India will give a chance to expand the imagination of the students. Also, help them learn more and increase their understanding. The sector of education and the communities like students, teachers, parents, etc. will aid a lot from the technology trends of the future.
Awarded as "Emerging School of the Year" in 2017, VSI International School has become the most recommended school in Jaipur, Rajasthan. The vision of the school is to provide education to each and every one. That's why VSI International has started using some new educational trends like smart classes, online classes, etc so that students can gain knowledge from the new aspects of technology. The school understands that education is also important for parents as well. That's why faculties of the school release some parenting tips from time to time so that parents can also learn from them.
What are Technology Trends?
Technology trends mean being aware of the technology that is newly launched or trending and is gladly approved in the industry or marketplace. It also comprises one's proficiency to acknowledge and grasp the advantage of having that technology used. Moreover, anyone who can identify how the technology will bring success into his business.
Technology Trends in Education 2021
Here are some of the main education trends and technologies that can be important for everyone in the future.
1.Online Education
Things like booking tickets, watching live TV shows, ordering food have become online, education is also steadily reaching the mark. Through, the internet has become easily accessible for everyone, also a lot of internet users are increasing swiftly. This can be a good chance to deliver education to every corner of the country.
Online education has also broken the barriers to classroom learning. Now students can go through the entire session again and revise the same. Online learning has given us the freedom of gaining knowledge at our own pace and understand it better.
Now that internet has reached a maximum of rural areas in India where students are learning via watching videos on YouTube, downloading documents, etc. The shortage of quality teachers in rural parts of the country has made students depend on the internet.
2. Personalized Learning
The learning process or delivery of the education should be personalized. The old classroom-based learning process may not be useful for everyone. Everyone has their own strengths, weaknesses, and speed of understanding. Also, every individual has their own liked or disliked subjects. Because of these reasons, different students stand out in different subjects. Many times students also fall behind as theoretical subjects are out of their interests.
Personalized learning technology is the only way that would help in creating a syllabus or learning hacks after seeing every student's strong and weak points. Thus, this is the trend that is going to dominate in the future.
3. Blockchain Mechanism
Blockchain mechanism is a technology that allows us to copy and paste, duplication the data but no modification. It can also prevent hacking of the system. That's why it has become one of the most popular technology nowadays.
Blockchain is helpful when there is a necessity of co-operation or allocation of database and information. Block-chain is also utilized in various areas of education, including examination management, student data validation, certificate verification, etc.
The school administrators manage student data, mark sheets. In older times, if the management wants to verify any student's data then the procedure will have to take place manually. But now, blockchain can allow us to wipe out such older methods. By offering different elements, such as allocation of information and validation, that can help us to check the student's degree or marks obtained. In addition to this, the certificates and other data can be stored digitally with the help of blockchain technology.
How Technology is Helping the Education System in India?
With more opportunities and challenges, technology is also helping the Indian educational system. Many schools and colleges have opted for the above technologies, yet many are still practicing the old way. These emerging trends have made learning more easy and understandable. It has also helped students to enhance their creative skills and interests. Using A/V clips, smart classes have made classroom learning more fun and simple. Parents are also happy to see the new ways of learning, as their kids are having fun as well as gaining knowledge.
The Keynote of the Blog
The education sector in India has seen a drastic change in recent years, as many schools and colleges have adapted to the new educational technologies. VSI International School has also seen some good results and outcomes based on the technology used by them. We are among the best schools in Jaipur, located in Pratap Nagar. Our RBSE affiliated school is focused on providing English medium Co -education to primary, secondary, and senior secondary classes. We hope this blog will help you in choosing the trends of technologies in education. If you have any doubts or you want to ask anything, please contact us directly.