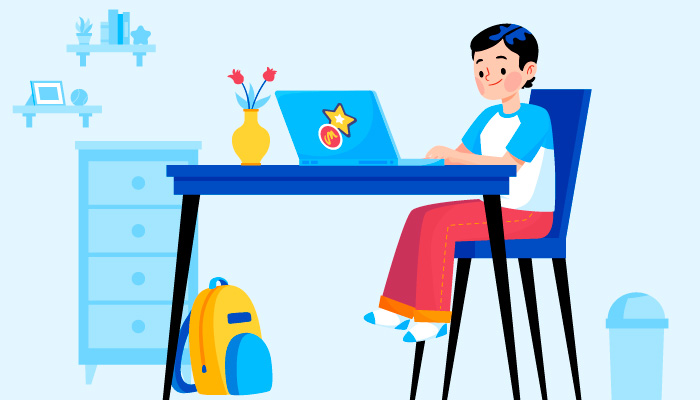 8 Effective Study Tips to Enhance Your Learning At Home
Does your present study method of reading a textbook repeatedly will help you memorize everything? Do you sense stressed sometimes because you're unable to remember all the information in a small period? As a student, use study tips for yourself to manage your time and enhance your learning. Try to gain some learning hacks that will increase your speed and strengthen your mind.
In this article, you will get some effective study techniques and tips for students that will help you find your way. Also, studying at home can be an arduous task because of so many distractions. Pastimes like watching TV, scrolling social media, taking a nap, etc can kill your vibe of achieving your target. Luckily, here are some study tricks that can keep you focused and give your more productive results.
Rajasthan Education Excellence has awarded VSI International School in Jaipur as the "Emerging School of the Year "in the year 2017. The motto of the school is to make every student's personality stronger mentally and physically. Also, they try to give parenting tips to the parents of the toddlers and adult students in order to make them understand the mental condition of their child. Parents should always give time to their children and surely teach them with polite behavior and kind words. This is what VSI International School believes in and can be considered as the second home for the students.
Study Tips for Effective Learning
Here are some study tips and tricks for effective learning at home:
1.Active Studying
Active studying can be the best way of learning and gaining knowledge. Asking questions to yourself before studying, during, and after studying, will keep functioning appropriately.
Questions like:
What I am going to learn?
What I already know about this chapter?
Importance of these paragraphs and lines
Did I understand what I read?
Which topic should I review again?
2. Getting a Good Sleep
For effective learning, your mind needs to be fresh and active. Students should always get a good sleep of eight hours in order to refresh their brains before studying. Moreover, good sleep is very much important before any exams or tests, this makes your brain more alert and helps memorize all the information for getting a good result.
3. Choose the Right Time
Every student has their own ways of studying. Some prefer to wake up in the morning but some are night hawks. Choose the right time to study when you feel your brain is productive enough to gain all the information. But don't force yourself to study when you are not ready this will affect your time and energy.
4. Design your own Study Area
This is one of the most important study hacks for every student. You should always design your own study area where you feel more comfortable. Whether it's your dining table or your desk in the bedroom. Try to avoid the area that is nearest to your bed because it will be too easy for you to take a nap while studying. Also, keep your study area clean and properly organized so that you can keep yourself focused.
5. Proper Diet
If you want your body and mind to work actively, you will have to eat a proper diet. It is very difficult to focus when your stomach is empty. Try to have a healthy snack during your study time but don't forget to prepare them in advance this will save your time. If you will be busy making your snacks during study time, this will be the greatest distraction for you from achieving your target.
6. Keep Chores at a distance
Studying at home is difficult because of housework and other household things. Try to avoid them or finish them before your study time. This will save you from unwanted interruption or being absent-minded while studying. Besides this, you can relax after your study session is over rather than thinking about the chores that you need to complete.
7. Make a Timetable
Making a timetable helps you in organizing your time, study breaks and especially beneficial when you have multiple subjects to study. Make your own timetable on chart paper and stick it on your wall, so that you can remember and refer to it frequently. Set time limits according to the subjects you want to focus on and don't forget to add breaks during the entire session.
8. Use Timer
Using a timer can help you keep track of your study session and work according to your timetable. Keeping a timer may help you in being focused as you have to complete a task before the timer blows off. This will also increase your speed and efficiency. It will also help your break time useful and blameless.
The Takeaway of the Blog
Studying at home can be convenient as well as challenging- because of distractions and disturbance. But if you have a proper plan and you can organize things according to your convenience, it can be more effective. Try to follow the above study tips, this will surely help you in enhancing your knowledge and help you in becoming more focused.
We hope this blog will be useful to you in managing your time. VSI International School is the best English Medium School that focuses on every student's growth and development. We have shared many other blogs in order to help the parents and students. If you have any queries or you want to ask anything, directly contact us.