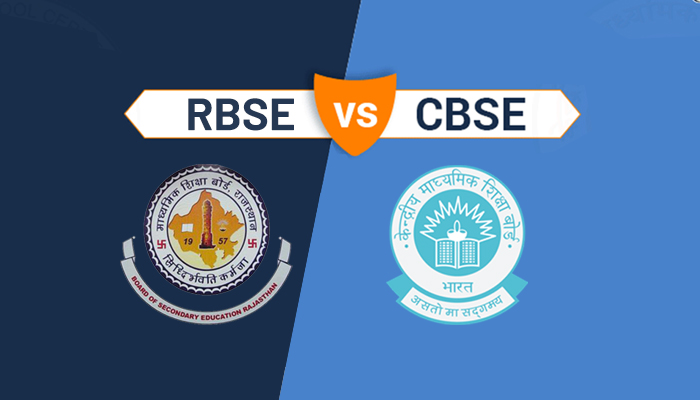 RBSE vs CBSE
 If you are confused about which boards to use for your senior secondary examination then this blog will help you to make the right choice. In this piece of Information, we have differentiated the RBSE and CBSE on basis of 4 parameters, the fees of Rajasthan board school and CBSE board school, study pattern of the state board and central board, who should opt for state BSER, the competition level of Rajasthan board and the state board.
Before we move further, it is important for every parent and student to know that class 6-12 is road building classes in every student's life. This is the time when we slowly and gradually start working towards our professional ambition and work hard to reach them. 
Why does the Educational board matter?
The primary reason why students and parents get confused between RBSE vs CBSE  is because of the different approaches towards curriculum and cut-off criteria. RBSE and CBSE efficient organizational bodies, working in their best effort. But both boards have different approaches towards teaching methods. Students should identify these approaches and accordingly choose either the Rajasthan board or CBSE board, to get the best result and make an easy path to their goal.
RBSE :
RBSE board also known as BSER is commonly known as Rajasthan boards. The Rajasthan government takes the responsibility of providing education in their respective state. They set the committee of members who decide the curriculum, exam pattern and schedule examinations and publish results. 
CBSE 
Central Board of secondary education is the Indian government's effort in providing education throughout the country. The Board has members belonging to any state and the prime concern is to set a good educational system for everyone. 
RBSE VS CBSE
Difference between the RBSE board and the CBSE board matters to students who are enrolling for 9th std or 11th std. Students of senior secondary classes have to choose the RBSE or CBSE board to make their professional qualifications easy and robust. We have further shared a few reasons that differentiate CBSE from RBSE.
| | | |
| --- | --- | --- |
| | RBSE | CBSE |
| Governing authority | State Government | Central  Government |
| Total schools | 25,642 | 22000 |
| Students enrolled per year | 4,00,000 | 1,100,000 tentative  |
| Fees structure | Rs10000-Rs 50000 p.a. | Rs 80000-Rs 1,00,000 |
| Study pattern | Focus on theory | Focus on practicals |
| Syllabus | 6 main papers | 5 main  papers |
| Marking pattern | Tough | Easy |
| Result | Low cut off rate | High cut of rate |
| Courses | RAS, IAS, CA | IIT, JEE, NEET |
1.Governing Authority
Rajasthan board is governed by the state government while the CBSE is governed by the government of India. All the decisions taken by CBSE is applied to all the affiliated school in different states, while RBSE board affiliated schools are only in Rajasthan.

2. Total Schools
There are 25,642 numbers of schools affiliated with RBSE, while there are 22000 numbers of CBSE affiliated schools. There are only a few schools that carry the learning approach of 
3. Students Enrolled Per Year
More than 10 lakh students enroll for CBSE 10th and 12th. Whereas only around 4 lakh students sit in RBSE class 12th Exams.
4. Fees Structure
The schools under RBSE authority are considerably affordable as compared to CBSE board school. The primary reason for such differentiation is the scope of work. Since RBSE Board is focused to cater only Rajasthan region they are more competitive with the fee structure.
5. Study Pattern
Students who are willing to appear for competing courses should follow the RBSE study pattern.  The RBSE study pattern is focused more on theory while CBSE is more focused on practical knowledge. RBSE gives enough time to students to complete the school syllabus as well as manage the preparation time for competitive exams CA, RAS, IPS, SCC, and more.
6. Syllabus
The Syllabus of RBSE is more vast as compared to the course of CBSE. There are 6 papers that need to be cleared for the RBSE board while CBSE covers only 5 papers in the final exams.
7. Marking Pattern
Students who are enrolled under the RBSE board are tightly invigilated by their teachers. The marking pattern is very strict and it requires a lot of hard work and focuses to get good marks in RBSE. Such rigorous training from the initial stages itself builds more competitive students in RBSE. CBSE on other hand is comparative lenient in marking patterns.
8. Result
Only fortunate students are able to score good marks in RBSE because of its hard marking scheme and comprehensive syllabus. But The one who struggles more shines more. You will be surprised to know that most administrators like IAS/RAS/CA belong to state boards, not CBSE. 
9. Courses
Students who enroll for the RBSE board are usually determined to make their career in administrative services like RAS, IAS, or accountant like CA, while aspirants of engineering, medical prefer CBSE boards.
Takeaway Of The Blog
RBSE Vs CBSE is the most crucial concern among senior secondary students and their parents, for choosing the best school in jaipur. With a proper understanding of study material, study pattern, marking scheme, and results an appropriate and feasible choice can be made between the state board and central board. VSI International school feels proud to be one of the most recommended RBSE schools in Jaipur that maintain international standards as expected from any other CBSE board school.